12. Offer a No-Breakdown Guarantee

Steve Miles, at Jerry Kelly Air Conditioning in St Louis, MO raised service agreement prices $25 during a downturn. Worried about the potential for price resistance, Steve offered a "no-breakdown guarantee." Once a Jerry Kelly technician has performed a tune-up, the company would pay the repair costs for any breakdowns through the end of air conditioning season.

The customer response was immediate and dramatic. By the thousands, people loved the idea of the breakdown guarantee and gladly paid more.

The guarantee is not as risky as it seems. If the technician finds deficiencies in the customer's air conditioner, these are noted. The customer can either authorized the company to correct the deficiencies or exclude them from the guarantee. Most opt to correct the problems, which results in additional work for Jerry Kelly.

Next, Jerry Kelly's technicians are among the best in their area. They are unlikely to miss much under normal circumstances. The presence of the guarantee caused them to slow down and be even more thorough in their maintenance. Few problems, if any, were missed that jumped up and bit the company as the summer progressed.

The company did have to make a number of repairs for free, but the number was insignificant financially. Think about it. With the average repair in the air conditioning industry costing consumers between $350 and $500, Jerry Kelly will make money if fewer than one system out of ten breaks down in the following season after a comprehensive tune-up is performed.

Another benefit of the no-breakdown guarantee is its timing. The guarantee doesn't take effect until the tune-up is performed. Normally, scheduling spring tune-ups is a hassle for an air conditioning company. People are busy, hard to reach, and scheduling air conditioning maintenance, even if aware of the need, is hardly top-of-the-list. The guarantee put a sense of urgency to the tune-up. The sooner the work was performed, the sooner the homeowner was covered against unpleasant repair expenses. Suddenly, homeowners were going out of their way to be available for tune-ups.

The no-breakdown guarantee drops added revenue straight to the bottom line with little accompanying risk. Steve Miles is excited about the program and tells everyone who will listen how it works, including direct competitors. Yet, few contractors and no competitors offer a similar program. Their response to the risk is emotional, rather than rational.


13. Create "Leave Ahead" Brochures To Give To Customers During Diagnostics



Few service company owners would send people into the field to make repairs without the proper tools and training. Yet, owners think nothing of sending service personnel into the field without sales and marketing tools and the training to use them.

Create informational brochures for service personnel to hand to customers at the start of a diagnostic or service call. The brochures should inform people about products and services your company offers in a dispassionate manner. Because they are handed out at the start of a service call, they're called "leave ahead" brochures, rather than leave behind brochures.

Most service company owners would agree that the best opportunities for boosting average tickets are for field service people to sell add-on products and services during a service or maintenance call. After all, the customer's already paid to get the truck and mechanic to the door. It costs less (or should) to sell the add-on today than a week from now.

Unfortunately, most service personnel are not very good at selling add-ons. They could be, but they hesitate to tell customers about all of the wonder opportunities the company provides. The best way to keep a customer from buying a product or service is to keep the customer in the dark about its existence. This is where the leave aheads come into play.

The brochures give the homeowner something to look at while the repair is performed. This can be an uncomfortable time for both homeowner and serviceperson. The homeowner is worried about the repair and cost, even if given a price upfront, and is uncomfortable with a stranger in the home. The brochure relieves anxiety by briefly focusing the homeowner's attention away from uncertainty.

The mechanic may be comfortable performing a repair, but is uncomfortable with the homeowner who follows him around. The brochure helps redirect the customer away from the mechanic so he can get his job done.

Few homeowners are open to the possibilities of additional work until the current problem is addressed to their satisfaction. Once the repair is complete, the cost is known, homeowners are relieved and ready to consider other products and services. If the leave ahead brochure highlighted a problem the homeowner feels or something the homeowner desires, it's natural to ask the serviceperson about it.

The mechanic only needs to answer the homeowner's questions honestly to sell with conviction (assuming the mechanic believes in the product or service, which is where shop training comes in). Service personnel are great answering questions and sharing expertise.

Spend 50 cents per call to provide your people with leave ahead collateral that they are motivated to hand to homeowners to keep the homeowner occupied during the repair and you will invariably boost add-on sales over time.

Your effectiveness will improve if you focus on one or two common issues a month, train your personnel on the products and services you offer to address the issues, train your team on the homeowner benefits from your offering, run a limited time special promotion for the month, and focus that month's leave ahead collateral on the issue and/or your offering.


14. Create A DVDs For Customers To Play During Diagnostics


A more modern version of the leave ahead is the leave ahead DVD. This offers you the opportunity to fully address an issue, such as water conservation, indoor air quality, comfort problems, carbon monoxide, termite infestations, power quality, salt water pool systems, and so on. Homeowners can better see the process and visualize the outcome when video is used.

Of course, creating a DVD is more expensive than creating a 3-panel brochure. However, mass producing DVDs isn't much more costly than printing today. And with desktop video, it's possible to create your own videos in-house. Your risk with DIY video is the result might bore the audience to tears. For this reason, it's often better to hire a professional. If the budget is tight, consider hiring students from the closest college.

Once the DVD is mastered, it can be repurposed. The video can be uploaded to YouTube and similar sites, with links and tags pointing back to your company website. You can embed the video at your side.

The DVDs can be mailed to mailed to existing customers, offered as free public relations bait pieces, played and distributed during home shows, and sent to customers in advance of a replacement or remodel sales appointment.


15. Create A Page Listing All Options, Their Features, And Benefits For Quotes

One of the biggest reasons people fail to buy upgrades is a lack of awareness about the upgrades. Create a single page listing upgrade options for common repairs, for replacements, and for remodels. Include the features of the upgrades, the concurrent benefits, and the buyer's investment (total and additional cost via monthly payments).

Options sheets serve three purposes. One is to inform buyers what's available.

The second is to lay out the options in an easy to understand manner. Thirty-eight percent of the population learns, at least partially, by visual means. Laying out the options so people can "look at them" improves sales.

The final reason is to remind your service and sales personnel about the options. There's a lot to think about during a sale and even the most seasoned professional will skip things every once in awhile. An options sheet helps ensure no one skips the presentation of upgrades by accident or forgetfulness.


16. Hire Women Service Personnel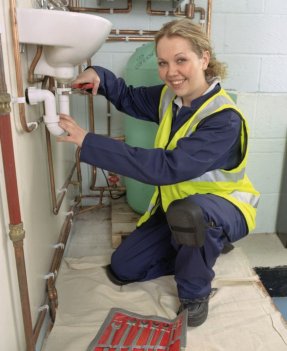 There are many arguments service company owners make to avoid hiring women for field positions…


Most women can't lift a compressor.

I can't send a woman into a bad neighborhood.

I can't send dispatch a woman at night.

I can't find women who want to work in the field.
Yada, yada, yada. The truth is there are times a woman service technician or plumber or electrician might need special accommodations. Those are obstacles, not barriers.
All of the reasons people give for NOT hiring a woman are trumped by the single most powerful reason FOR hiring a woman. Women sell more.
Women sell more because women are usually the decision makers for home service. Ask your call taker who phones in the most service requests, women or men. Ask your field service personnel who's usually home on a service call, a woman or a man.
Women are service decision makers and women trust other women more than men. In focus groups, women and men both say they are less likely to believe a female mechanic will take advantage of them. While the empirical research is mixed about empathy differences between genders, women are more likely to relate well to other women. Relating better translates into selling more.
My personal experience from running a national franchise organization is women technicians generate higher customer satisfaction scores than men. This is consistent with Ron Smith's experience at Modern Air Conditioning and Service America. It's also been echoed dozens of times by contractors I've talked with in seminars and on the Service Roundtable.
An added advantage of hiring women for the field is distinction. Because field service is male dominated, women electricians, plumbers, and technicians stand out. Hire them and your company stands out.
Finally, if added sales, more satisfied customers, and more distinctive service are not reason enough to consider women for field service, hire them because there's a shortage of skilled labor in the U.S., Canada, Australia, and the UK. We can't whine about the shortage of skilled labor and continue to overlook slightly more than half the population.
(c) 2009 Matt Michel